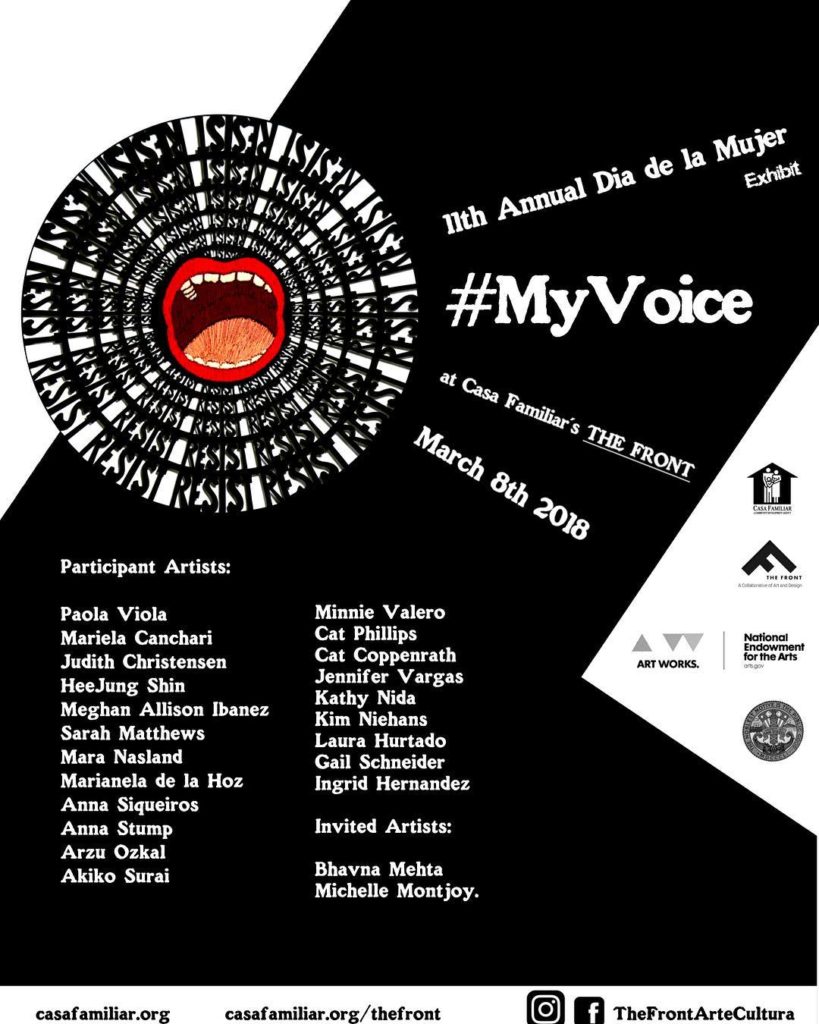 It´s that time of the year again.
11th Annual Dia de la Mujer Exhibit at The Front.
#MyVoice #MiVoz
The Dia de la Mujer Exhibition is a space dedicated to the full manifestation of women artists. We celebrate and embrace different perspectives and approaches. We hope that in the creation of the artworks for this exhibit, participating artists find unique ways to express themselves, but also engage and inspire individuals to raise their voices so that they can be heard. We believe in the importance of expression in any form that it might take, whether it deals with political, cultural, personal, sexual or gender issues. Artists can present their work in the gallery spaces or activate the outside of the building. Traditional and contemporary visual media will be considered, including projections, video, installation or performances.
The Women's Marches of January 21-22, 2017, which took place all over the nation and extended to the world, were a significant turning point: a 21st century concentrated effort by women to stand up for their rights. Women have been the leaders in movements such as Black Lives Matter, the recent #MeToo campaign and they have spoken out as Dreamers. All of these movements of resistance and activism use vocal and visual ways to express themselves in public, both real and virtual, through protests, marches, memes, hash tags and posters. We invite the artists in this exhibition to consider how art is an essential part of the current mobilization of women. Whether you choose to express this in a very personal way or through a more political approach, it is all valid and relevant, to be celebrated in its full glory and shared.
Participant Artists:
Paola Viola
Mariela Canchari
Judith Christensen
HeeJung Shin
Meghan Allison Ibanez
Sarah Matthews
Mara Nasland
Marianela de la Hoz
Anna Siqueiros
Anna Stump
Arzu Ozkal
Akiko Surai
Minnie Valero
Cat Phillips
Cat Coppenrath
Jennifer Vargas
Kathy Nida
Kim Niehans
Laura Hurtado
Gail Schneider
Ingrid Hernandez
Invited Artists:
Bhavna Mehta
Michelle Montjoy.