FRONTeras Liquidas: Community Musical Experience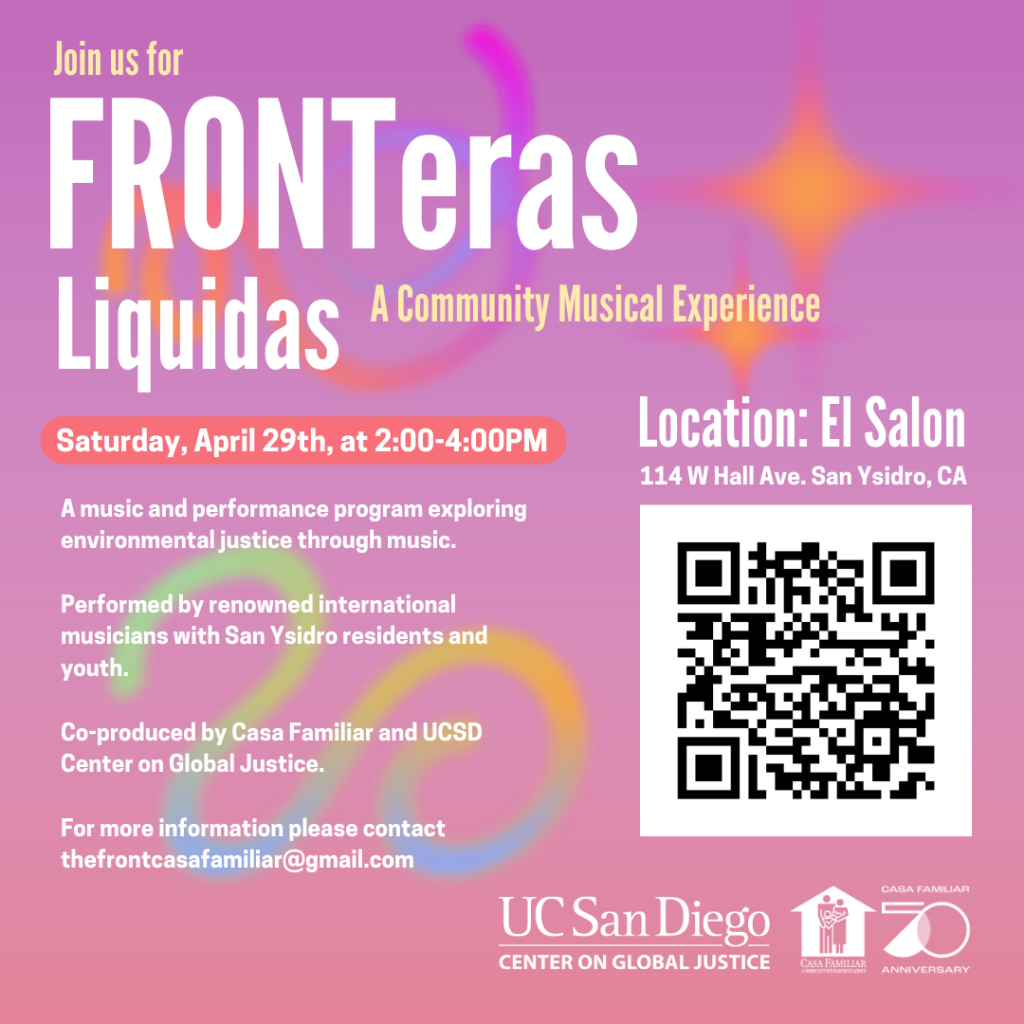 ---
Click here to sign up and participate in the ensemble
Click here to RSVP seats for the free performance on April 29th at 2pm
---
People in San Ysidro and South San Diego are being invited to sign up for this musical experience hosted by Casa Familiar with UCSD. There will be a series of free workshops throughout the month of April to explore playing music in an ensemble with dinner provided. All ages, from middle school to seniors, are welcome to join. These workshops will lead to a free, public presentation by the community ensemble of a musical composition called, "Fronteras Liquidas" followed by a meal for everyone and a forum on how art carries a message for environmental justice.
For more information about the workshops or the presentation, email thefront@casafamiliar.org 
or call (619) 428-1115 ext. 334
This project is brought you by partnership between Casa Familiar the UCSD Center for Global Justice. Click on this link for more information about UCSD's activities in San Ysidro: http://gjustice.ucsd.edu/ucsd-community-stations/ 
Featured artists:
For more information about UCSD Center on Global Justice: http://gjustice.ucsd.edu/
For more information about Casa Familiar: https://www.casafamiliar.org/
---
FRONTeras Liquidas: Una Experiencia Musical Comunitaria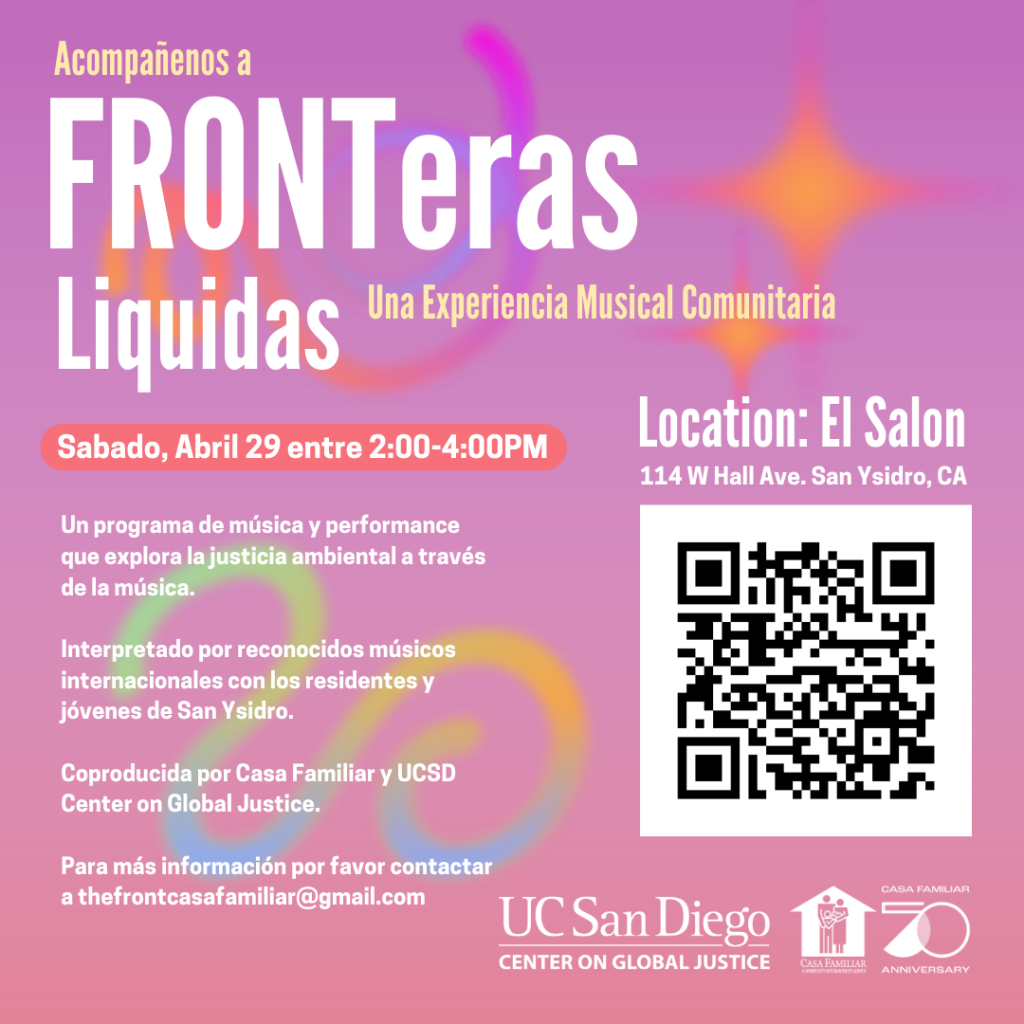 ---
Haga clic aqui para registrarse y participar en el conjunto
Haga clic aqui para reservar asientos para la presentación gratuita el 29 de abril a las 2 pm
---
Se invita a las personas de San Ysidro y el sur de San Diego a inscribirse en esta experiencia musical organizada por Casa Familiar con UCSD. Habrá una serie de talleres gratuitos durante todo el mes de abril para explorar tocar música en un conjunto con cena incluida. Todas las edades, desde la escuela intermedia hasta la tercera edad, pueden unirse. Estos talleres conducirán a una presentación pública gratuita por parte del conjunto comunitario de una composición musical llamada "Fronteras Liquidas", seguida de una comida para todos y un foro sobre cómo el arte transmite un mensaje de justicia ambiental.
Para obtener más información sobre los talleres o la presentación, envíe un correo electrónico thefront@casafamiliar.org 
o llame al (619) 428-1115 ext. 334
Este proyecto es fruto de una asociación entre Casa Familiar y el Centro para la Justicia Global de UCSD. Haga clic en este enlace para obtener más información sobre las actividades de UCSD en San Ysidro: http://gjustice.ucsd.edu/ucsd-community-stations/
Artistas destacados:
Para obtener más información sobre el Centro de Justicia Global de UCSD: http://gjustice.ucsd.edu/
Para más información sobre Casa Familiar: https://www.casafamiliar.org/