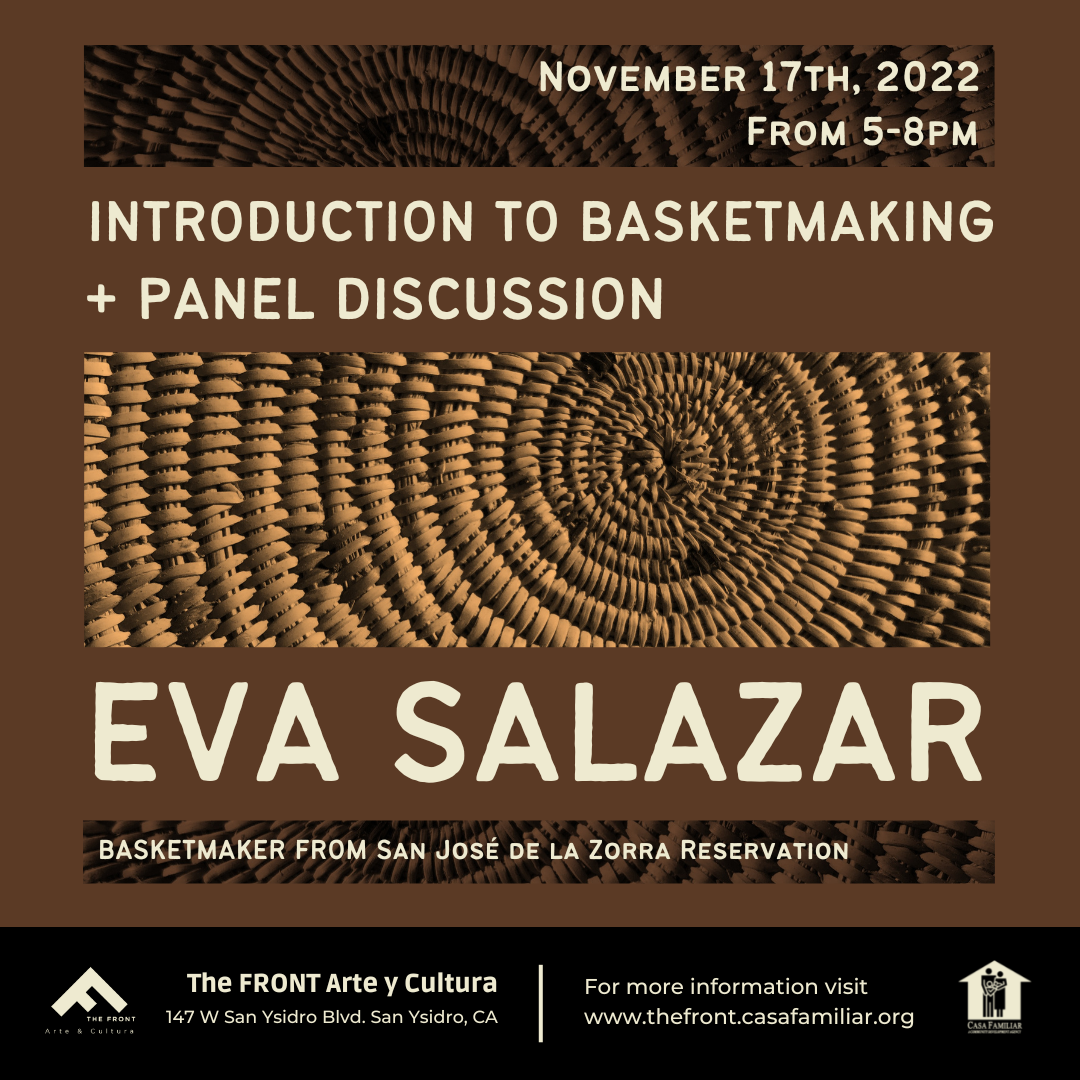 ---
We invite you to an evening of arts & culture with Eva Salazar, respected basket weaver from San Jose de La Zorra Reservation who will be presenting an in-person artist talk at The FRONT Arte y Cultura gallery.
This presentation is in part as a parallel activity to our current exhibition «Our Ancestor's Dream» curated by Karla Garcia.
Our event is scheduled for Thursday, November 17th, 2022 from 5-8pm.
About the Artist:
Eva Salazar, a traditional Kumeyaay basketweaver, has been weaving coiled baskets since she was seven years old.  She grew up on the San José de la Zorra Reservation in Mexico, where her mother and aunts taught her to weave coiled baskets of willow and juncus.  When she moved to the United States she was able to gather and weave other plants that were not available in her village in Mexico.  She also visited museums to study older baskets and learn the techniques used to weave them.  Now a master weaver, she teaches her basketweaving skills to other Kumeyaay tribal members and exhibits her work in museums.
Additional Information:
Free to the public. No RSVP Required.
Free parking for this event is located between Cypress Dr. and Blanche St.
Google Maps directions can be found here.
---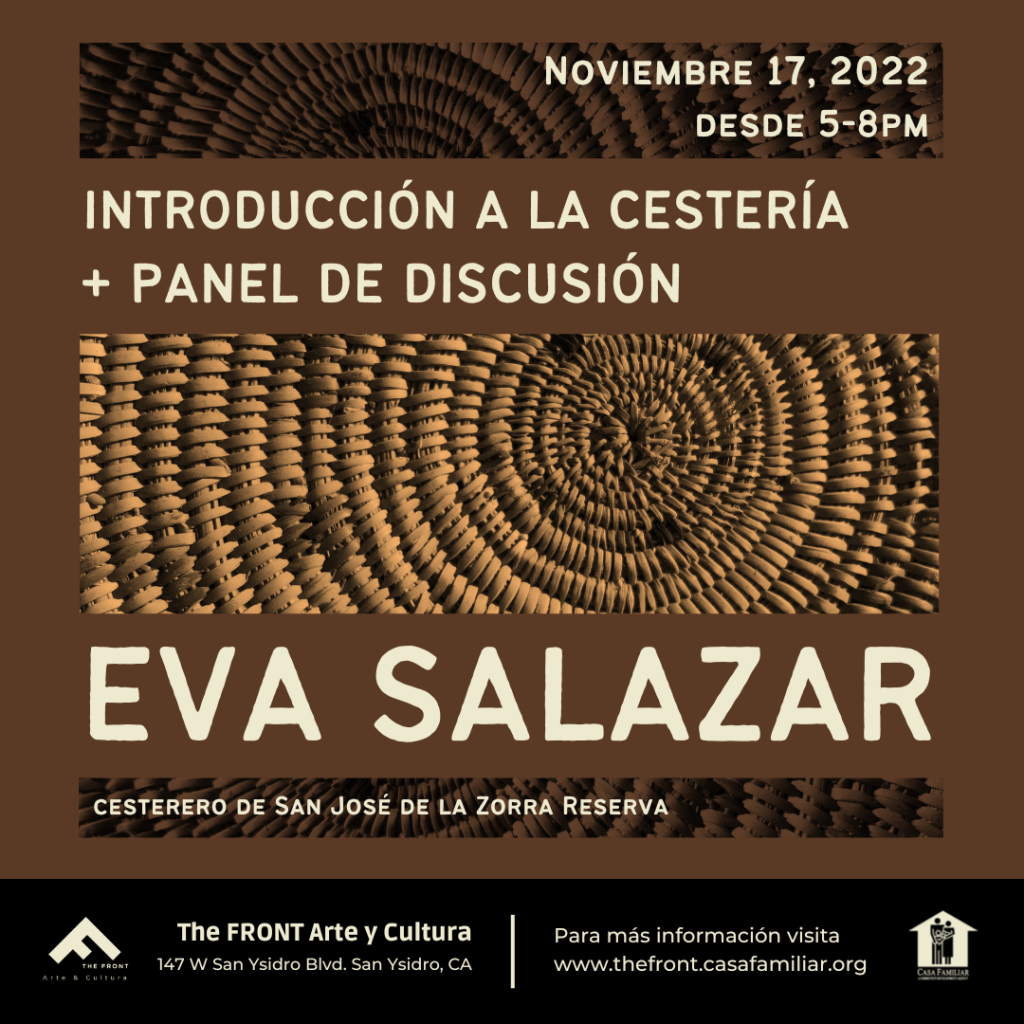 Te invitamos a una velada de arte y cultura con Eva Salazar, respetada tejedora de canastas de la reserva de San José de La Zorra, quien presentará una charla de artista en persona en la galería FRONT Arte y Cultura.
Esta presentación es en parte una actividad paralela a nuestra exposición actual «El sueño de nuestros antepasados» curada por Karla García.
Nuestro evento está programado para el jueves 17 de noviembre de 2022 de 5 a 8 pm
Sobre la artista:
Eva Salazar, una tejedora de cestas tradicional Kumeyaay, ha estado tejiendo cestas enrolladas desde que tenía siete años. Creció en la Reserva San José de la Zorra en México, donde su madre y sus tías le enseñaron a tejer cestas enrolladas de sauce y junco. Cuando se mudó a los Estados Unidos pudo recolectar y tejer otras plantas que no estaban disponibles en su pueblo en México. También visitó museos para estudiar canastas antiguas y aprender las técnicas que se usaban para tejerlas. Ahora, como maestra tejedora, enseña sus habilidades de cestería a otros miembros de la tribu Kumeyaay y exhibe su trabajo en museos.
Información Adicional:
Gratis para el público. No se requiere confirmación de asistencia.
El estacionamiento gratuito para este evento se encuentra entre Cypress Dr. y Blanche St.
Las direcciones de Google Maps se pueden encontrar aquí.