---
ProgramaFilmico-DomesticGeographies-Final——— Download the program – Descarga el programa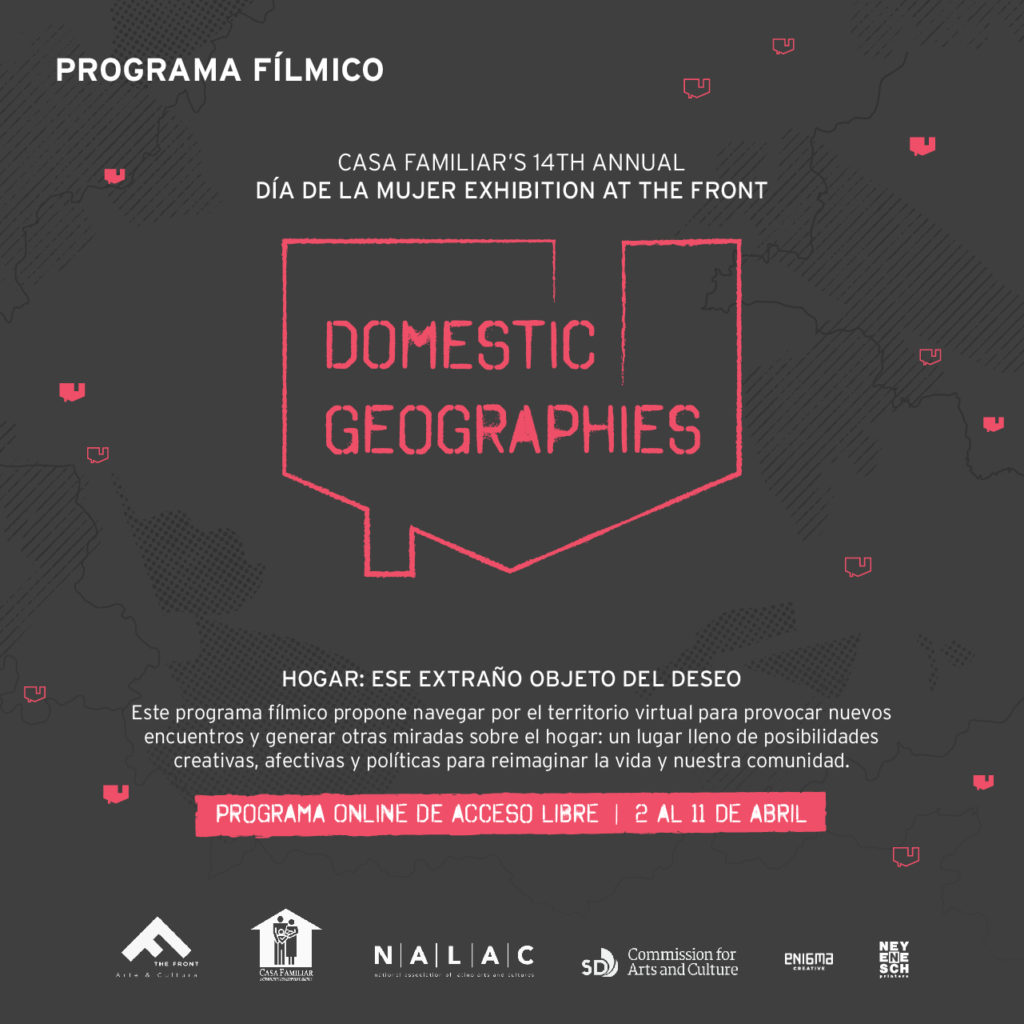 ---
ENGLISH (ESPAÑOL MAS ABAJO)
CASA FAMILIAR ANNOUNCES THE FILM PROGRAM ¨HOME: THAT OBSCURE OBJECT OF DESIRE¨ AS PART OF DOMESTIC GEOGRAPHIES
The program opens on Thursday, April 1 with an outdoor cinema screening of the multi-award-winning documentary ̈América ̈ (2019) by Erick Stoll and Chase Whiteside In which three young circus brothers must reinvent their lives to take care of their charismatic 94-year-old grandmother America. The film achieves an intimate, human and sensitive approach to this family situation that a lot of humor and tenderness makes us see new ways of living collectively. An unmissable event to re-enjoy the film experience on the big screen. The appointment is Thursday, April 1 in the parking lot of The FRONT at 6:30 pm. 147 w san Ysidro blvd. San Diego, CA, 92173. Space is limited to 30 people, social distance and masks are required.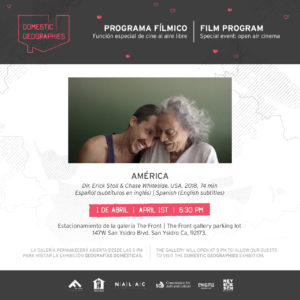 From Friday 2 to Sunday April 11, the film selection can be enjoyed in virtual format through a digital program that contains links to the films and can be downloaded from the website. The program with all the links will be available since March 29 at: www.thefront.casafamiliar.org, but the films will be available to watch, only between Friday the 2nd and until Sunday the 11th of April.
Given that the internet has become an essential part of our daily domestic geography, the exhibition works as a map to navigate through the virtual territory and experience new encounters with the cinema in three angles: 1) Confrontations, 2) Creations from the inside and 3 ) Build the family in other ways.
The journey begins by visiting films that have been milestones in feminist thinking since the 1960s, with sharp criticisms of the hegemony of romantic love and domestic life that for centuries have oppressed women. Subsequently, we go through a series of contemporary creations that update the difficulties of married life and add complexities to the ways of perceiving, narrating and inhabiting intimate and family life.
The journey, although short, illuminates the tensions of the home as a probable liminal space between the public and the private, to legitimize it as a place full of affective, artistic and micro-political possibilities from which it is possible to reimagine life, build community and influence in society.
The program includes works by renowned artists such as Chantal Akerman (Belgium), Martha Rossler (United States), Tracey Moffat (Australia) and a number of contemporary filmmakers such as Lucía Gajá (Mexico), Aslaug Holm (Norway), Erick Stoll, Chase Whiteside (United States) and Adrian Orr (Spain).
ProgramaFilmico-DomesticGeographies-Final——— Download the program – Descarga el programa
---
ESPAÑOL
CASA FAMILIAR ANNOUNCES EL PROGRAMA CINEMATOGRÁFICO HOGAR: ESE EXTRAÑO OBJETO DEL DESEO COMO PARTE DE LA EX- POSICIÓN DOMESTIC GEOGRAPHIES
El programa inaugura el jueves 1 de abril con una función presencial de cine al aire libre del multipremiado documental ̈América ̈ (2019) de Erick Stoll y Chase Whiteside En el que tres jóvenes hermanos cirqueros deben reinventar su vida para hacerse cargo del cuidado de su carismática abuela América de 94 años. La película logra un acercamiento íntimo, humano y sensible a esta situación familiar que mucho humor y ternura nos hace ver nuevas formas de vivir en colectivo. Un evento imperdible para volver a disfrutar de la experiencia fílmica en pantalla grande. La cita es el jueves 1 de abril en el estacionamiento de The FRONT a las 6:30pm. 147 w san Ysidro blvd. San Diego, CA, 92173. Cupo Limitado a 30 personas, distancia social y máscaras son requeridas.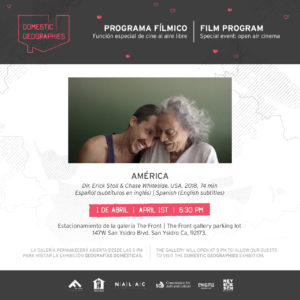 A partir del viernes 2 y hasta el domingo 11 de abril, la muestra de cine podrá ser disfrutada en formato virtual a través de un programa digital que contiene los links a las películas y que podrán descargar de la página web. El programa con los links, estará disponible a partir del 29 de marzo en: www.thefront.casafami- liar.org, pero las películas estarán disponibles solamente entre el viernes 2 y hasta el domingo 11 de abril.
Dado que el internet se ha vuelto parte esencial de nuestra geografía doméstica cotidiana, la muestra funciona como un mapa para navegar por el territorio vir- tual y experimentar nuevos encuentros con el cine en tres ejes: 1) Confronta- ciones, 2) Creaciones desde el interior y 3) Construir de otras formas la familia.
El viaje comienza visitando películas que han sido hitos en el pensamiento femi- nista desde los años sesenta del siglo pasado, con críticas agudas a la hegemo- nía del amor romántico y la vida doméstica que por siglos han oprimido a las mujeres. Posteriormente, recorremos una serie de creaciones contemporáneas que actualizan las dificultades de la vida conyugal y complejizan las formas de percibir, narrar y habitar la vida íntima y familiar.
El trayecto, aunque corto, ilumina las tensiones del hogar como un probable es- pacio liminal entre lo público y lo privado, para legitimarlo como un lugar lleno de posibilidades afectivas, artísticas y micro políticas desde las cuales es posible reimaginar la vida, construir comunidad e incidir en la sociedad.
El programa incluye obras de reconocidas artistas como Chantal Akerman (Bél- gica), Martha Rossler (Estados Unidos), Tracey Moffat (Australia) y una serie de cineastas contemporáneos como Lucía Gajá (México), Aslaug Holm (Noruega), Erick Stoll, Chase Whiteside (Estados Unidos) y Adrian Orr (España).
ProgramaFilmico-DomesticGeographies-Final——— Download the program – Descarga el programa
---
Itzel Martínez del Cañizo is a film director and programmer. His documentaries have been screened at various international contemporary art and film festivals. She is currently studying the Postgraduate Degree in Art History at UNAM and is a programmer for the Ambulante Documentary Film Festival.