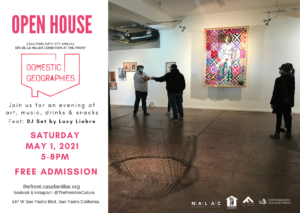 This upcoming Saturday! We welcome you to an evening of snacks and drinks for our current expo: Domestic Geographies curated by Ingrid Hernandez.
We will also be joined by a live DJ set by Lucy Liebre! Our Open House will run from 5-8pm and will include an outdoor patio.
Nevertheless, for your safety, we ask to maintain safe social distancing as well as wearing your face mask.
See you soon!
---
Este Sabado que viene! Te invitamos a una noche de botanas y bebidas para nuestro expo Geografías Domesticas curado por Ingrid Hernandez.
El evento contara con un DJ set de Lucy Liebre! Nuestro evento sera de 5-8pm. Tendremos patio al aire libre!
Por su seguridad y bienestar, pedimos mantener una distancia social y el uso de cubre bocas.
Ahi nos vemos!