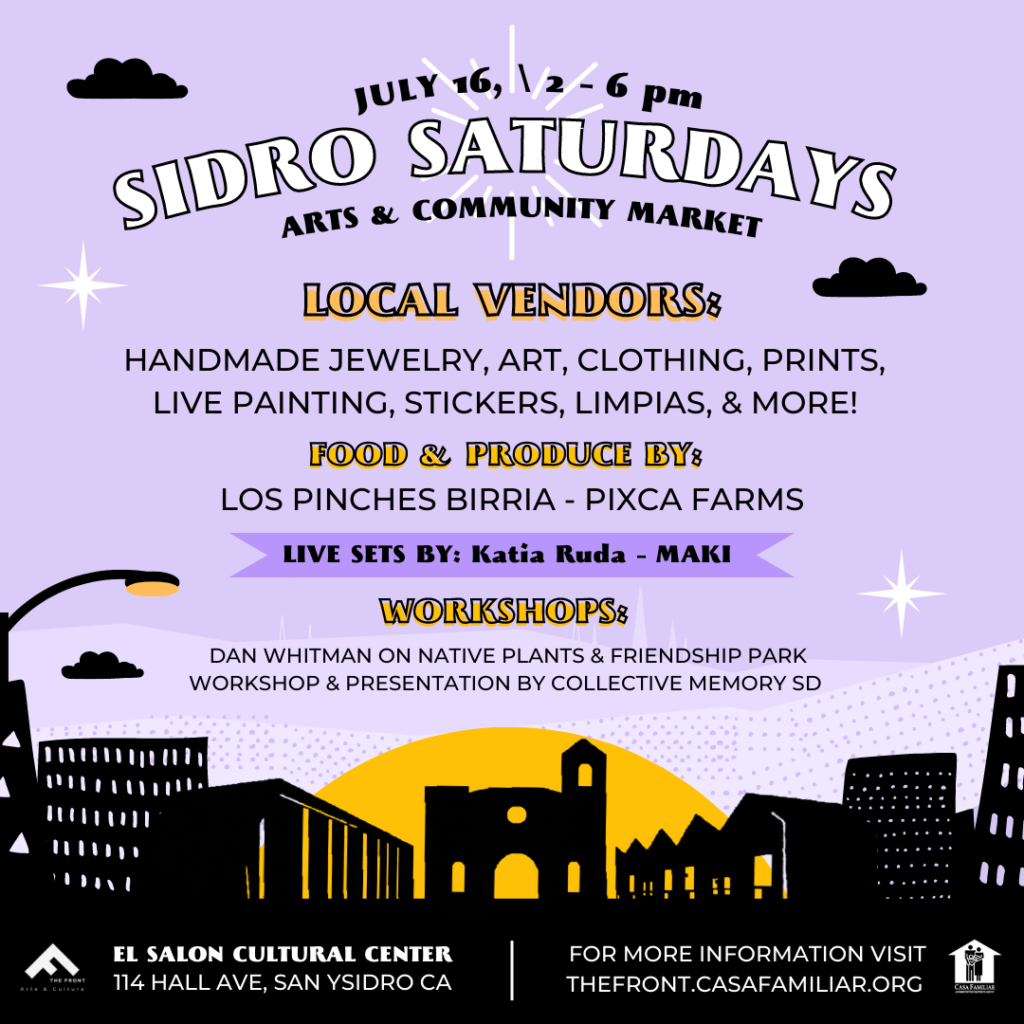 (Subtítulo en español se encuentra en la parte inferior de la página.)
Sidro Saturdays is returning this July 16th, 2022!
Join us for an afternoon of our arts & community market held at the heart of San Ysidro, CA.
We will be including a variety of vendors, artists, artisan works, music, food & more.
Food vendors will be present, so come hungry!
If you are interested in participating as an artist or vendor, please email us at
alejandrar@casafamiliar.org or call us at (619) 428 – 1115 Ext. 206
Below is all our information pertaining to our event.
Sidro Saturdays is held outside EL SALON CULTURAL CENTER: 114 W HALL AVE, SAN YSIDRO CA
Google Maps Directions to our event, HERE.
Free Parking is available. Our parking lot is located at the intersection between
Cypress Dr. & Blanche St. To see our Event Map, click HERE.
There is no vendor fee to participate. 100% of profits go back to vendors.
REQUIREMENTS & MORE INFORMATION:
WE ASK ALL ARTISTS TO ARRIVE AT 12PM.

TABLES AND CHAIRS ARE PROVIDED. FIRST COME FIRST SERVE.

THERE IS LIMITED SPACE.

ALL MEDIUMS ARE ACCEPTED FOR INSTALLATIONS, AS LONG AS THEY FIT WITHIN

A 6′ X 4′ SPACE.

WE ASK ALL ART TO BE EASY TO INSTALL FOR BEST MOBILITY.

AT THE END OF THE EVENT WE ASK ALL ARTISTS TO CLEAN THEIR SPACES.
————– EN ESPAÑOL —————————————————————————————————————-
¡Sidro Saturdays regresa este 16 de Julio 2022!
Únase a nosotros para una tarde de nuestro mercado de arte y comunidad que se lleva a cabo en el corazón de San Ysidro, CA.
Incluiremos una variedad de vendedores, artistas, trabajos artesanales, música, comida y más.
Los vendedores de comida estarán presentes, ¡Así que venga con hambre!
Si está interesado en participar como artista o vendedor, envíenos un correo electrónico a
alejandrar@casafamiliar.org o llámanos al (619) 428 – 1115 Ext. 206
A continuación se muestra toda nuestra información relativa a nuestro evento.
Sidro Saturdays se llevara a cabo afuera de EL SALON CULTURAL CENTER
114 W HALL AVE, SAN YSIDRO CA
Direcciones de Google Maps a nuestro evento, AQUI.
Estacionamiento gratuito disponible. Nuestro estacionamiento está ubicado en la intersección entre Cypress Dr. y Blanche St. Para ver nuestro mapa de eventos, haga clic AQUI.
No hay tarifa de proveedor para participar. El 100% de las ganancias vuelven a los proveedores.
REQUISITOS Y MÁS INFORMACIÓN:
SOLICITAMOS A TODOS LOS ARTISTAS QUE LLEGUEN A LAS 10:30 AM.
SE PROPORCIONAN MESAS Y SILLAS. SE LE SIRVE EN ORDEN DE LLEGADA.
HAY CUPO LIMITADO.
SE ACEPTAN TODOS LOS MEDIOS PARA LAS INSTALACIONES, SIEMPRE QUE SE AJUSTEN A UN ESPACIO DE 6′ X 4′.
PEDIMOS A TODO ARTE QUE SEA FÁCIL DE INSTALAR PARA UNA MEJOR MOVILIDAD.
AL FINALIZAR EL EVENTO SOLICITAMOS A TODOS LOS ARTISTAS LIMPIAR SUS ESPACIOS.