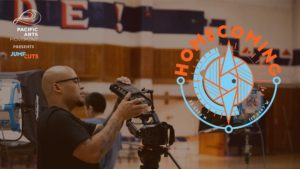 JUMP/CUTS: Homecoming presents documentaries directed by R.J. in a special one night only event to be held at The FRONT Arte Cultura.
The screening will begin at 4pm and be followed by a special Q/A with Artistic Director Brian Hu. Join us for a post-reception at Hoppy Daze including drink specials and live music!
Tickets are FREE but limited by capacity. Please reserve your ticket in the link provided.
For the last 20 years, the San Diego Asian Film Festival has positioned documentary cinema as the artistic equal to narrative cinema, a genre that crosses borders and subverts cultural boundaries. In the process, we've helped celebrate countless voices and perspectives that open up new ways of seeing the world.
With JUMP/CUTS: Homecoming, we cap off our summer event series by looking at the distinguished non-fiction work of one such filmmaker: San Diegan and Montgomery High School alumnus R.J. Lozada, whose work is deeply concerned with how institutions and humanity co-exist. His film "Distance Between," which won the 2015 SDAFF Grand Jury Award, is a tender, personal reflection on his relationship with a Filipino father. Other works, like "Mothers Day" and "Laps," are observational portraits of the emotional effects of incarceration.
THANK YOU TO OUR SPONSORS AND COMMUNITY PARTNERS
William Male Foundation
Montgomery High School Alumni & Friends