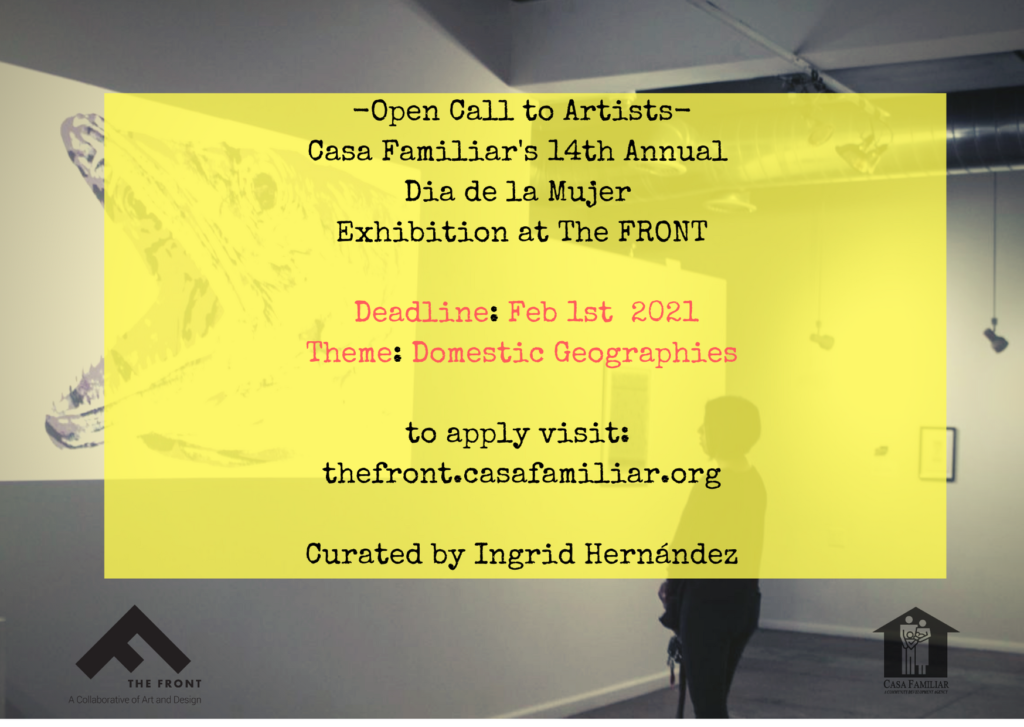 Hello everybody, we are glad to share with you the open call for the 14th annual Dia de la Mujer exhibition. This year's curator is Ingrid Hernandez.
Download Guidelines —-> 2021 Open Call : ESPANOL Dia de la Mujer Guidelines
Descargar las instrucciones (tema en español) —2021 Open Call : ESPANOL Dia de la Mujer Guidelines
Download Filable Application —–> Fillable APPLICATION Dia de la Mujer
Download Printable Application ——> Printable APPLICATION Dia de la Mujer
---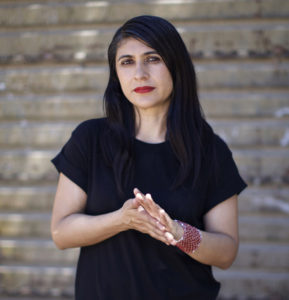 Ingrid Hernández (Tijuana, México 1974) is a visual artist and educator. Her work has been exhibited individually and collectively both in Mexico and abroad.
Hernandez has been a teacher, researcher and workshop leader in educational institutions and independent associations in Mexico, Bogota and New York. In The United States she was invited to give lectures and workshops, specifically for the Armory Center for the Arts (2017); the California Institute of Integral Studies (CIIS, 2017); the Blaffer Art Museum of the University of Houston (2014), the California Institute of Arts (CalArts, 2006) and the Otis College of Art and Design in their master's program Public Practice (OTIS College, 2014).
Her work belongs to the public and private collections such as the Museum of Latin American Art (MOLAA), the Autonomous University of Baja California (UABC) and the Tijuana Cultural Center (CECUT), Colección Elias+Fontes, and Benetton Collection.
Hernandez is also co-director and co-founder of Relaciones Inesperadas (Unexpected Relations), an artist organization based in Tijuana.
---
Guidelines:
Casa Familiar Arts & Culture presents
14

th

Annual Dia de la Mujer Art Exhibition at The FRONT
Domestic Geographies
Art Exhibition Entry Agreement & Guidelines
(Note: applications will only be accepted by e-mail)
Submit application: C/O Dia de la Mujer 2021
E-mail to: franciscom@casafamiliar.org
For questions, please call (619) 9626757, Mon – Thursday 10 – 5 pm.
All applications, required attachments and photo/video samples of artwork need to be submitted by the deadline. NO LATE SUBMISSIONS WILL BE ACCEPTED.
Artists will be contacted via e-mail.
Entry fee: Free – maximum 1 art piece per artist)
Exhibition Dates: 3/6/2021– 5/7/2021
ELIGIBILITY: Open to women and non-binary artists. All nationalities. Submitted artwork must have been executed in the last 2 years and must be available for the duration of the exhibit.
***Artists selected through this open call will receive an honorarium of $100 for their participation in the exhibition. Max 13 artists.
GUEST CURATOR: Ingrid Hernandez
IMPORTANT DATES
| | |
| --- | --- |
| Deadline for Entry (Applications & Fee) | Monday Feb 1st, 2021 5:00pm Pacific Time |
| Artists Notification | Monday Feb 8, 2021 |
| Artwork drop off | Monday Feb 15th – Wed Feb 17th, 2021 9am – 5 pm. |
| Opening Reception | Saturday March 6th, 2021 |
| Exhibition Ends | Friday May 7th, 2021 |
| Art Pick-Up Deadline | Friday May 15th, 2021 |
Participating artists are expected to explore this year's theme in their submitted artwork.
THEME: Domestic Geographies
Home is made of intimate elements that connect us to the heart of life. It is that place where meanings are built, emotions are cultivated, experiences reverberate and relationships of support, care and work with others are developed.
A universe built between marginality and the endearing, that we have been forced to occupy historically, but that nobody values. Producers or often reproducers, we have actively participated in the creation of affections and goods in a private sphere that no one recognizes.
We have not stopped appropriating this space to reinvent it: from A Room of One's Own to experiments in communal coexistence; women have reinterpreted the roles assigned to us in this place to explore new domestic geographies.
This is an invitation to present works that redefine our roles within the home, and that at the same time explore the ways in which we have shown expansive capacity and political resistance within the private sphere.
REQUIREMENTS:
COMPLETED APPLICATION (by email) All fields should be filled out, and required attachments submitted with application. Each artist is limited to 1 entry.
CATEGORIES: artists must select one of two categories for entry. Established Artist (Track record of previous exhibition, publication, articles, etc.) Emerging Artist (Community members with no artistic track record, under recognized artist, or artists in development).
ATTACHMENT 1 – IMAGES – Submit a high-resolution image by email. (Minimum 1, maximum 5 images –

Image resolution at least 1024 x 768 pixels

); entering this competition constitutes agreement that images may be used for program or publicity purposes.

ATTACHMENT 2 – ARTWORK & ARTIST STATEMENT – A brief statement about the work being submitted should be included as well as artist's biographical information.
Due by February 1st, 2021, 5:00 pm.
ALL MEDIA ACCEPTED.

This year we are encouraging artists to submit proposals in all mediums, performance art, actions or projects that could engage the community in unconventional forms & spaces due to the pandemic restrictions and health concerns. Interventions, concerts, performances, pop-up events, net art, will be considered as well as paintings, prints, sculpture, etc.

However, the selection of such proposals will be evaluated by the curatorial committee according to their viability and production possibilities.
ENTRIES:

No entries that have been in previous competitive exhibitions are eligible.

ARTWORK SUBMISSION:

All accepted entries/works of art must be delivered to the exhibition address by

Feb 15, 2021. THE FRONT – 147 W San Ysidro Blvd., San Ysidro, CA 92173.
SHIPMENT OF ARTWORK.

– If Artwork is to be shipped, Artist shall assume complete monetary responsibility for shipping and handling costs for their shipment to the gallery as well as their return to the Artist. Casa Familiar is not responsible for damage or loss occurring once artwork has been delivered to shipping company.

FRAMES AND MATS: All accepted artwork must

be framed or otherwise professionally presented and ready for exhibition. Entries must be in finished condition for handling and display. When appropriate, works should be framed with hanging hardware included (no saw-tooth hangers) for their own protection.

PUBLIC SALES:

Casa Familiar Gallery's Commission; Terms of Payment. The Gallery shall sell the Artworks only at the Retail Price specified by the artist. The Gallery and the Artist agree that the Gallery's commission is to be 30 percent of the Retail Price of the Artwork. Payment to the Artist shall be made by Casa Familiar at the end of the art exhibit, and will include all commissions due for any/all artworks sold. The artists may choose to designate artwork as NFS (not for sale).

ACCEPTANCE/LIABILITY:

Artwork must be clearly labeled with artist name, phone number, email address, and title of work at time of drop off. The utmost care will be given to each entry received; entries are submitted at artist's/owner's own risk.

The organizers and hosts are not responsible for the loss of or damage to works, frames, glass, or any other component of the art.
Download Guidelines —-> 2021 Open Call : Dia de la Mujer Guidelines.
Download Filable Application —–> Fillable APPLICATION Dia de la Mujer
Download Printable Application ——> Printable APPLICATION Dia de la Mujer