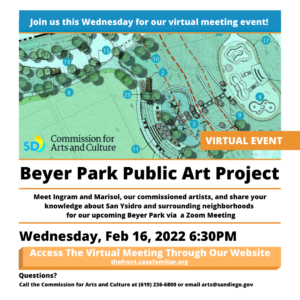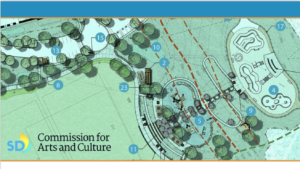 Join Us this Wednesday February 16th for our virtual community meeting event!
Artists Ingram Ober and Marisol Rendon have been commissioned by the City of San Diego to create a permanent, site-specific artwork for Beyer Park, currently under development to serve San Ysidro and surrounding neighborhoods.
Join Ingram and Marisol for a casual conversation about their artistic practice and share your knowledge of the neighborhoods. The conversation will take place via Zoom from 6:30-7:30 pm.
Click HERE to join the webinar on February 16.
If you are unable to attend the event, you can still share your knowledge HERE about San Ysidro and surrounding neighborhoods with the artist through Feb. 20, 2022
Questions? Call the Commission for Arts and Culture at (619) 236-6800 or email arts@sandiego.gov
Unable to join the embedded links? Below are the complete links.
Zoom Link: https://sandiego.zoomgov.com/j/1601758067?pwd=THo5elRxUEZaNmZCR2JJaFMwSXIrZz09
Survey Monkey Link:  https://www.surveymonkey.com/r/Y2RBRNH